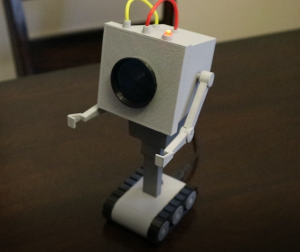 I was inspired by a Thingiverse model that a friend of myn had asked me to print for him.  I wanted to make my own version, but with a few electronics added.  I had a long list of goals in mind, however I only managed to achieve a few of them.
Speak its lines
Blink LED, like in its scene
Moving Arms
To slouch over and sit up straight
Microphone to react to noise
Moving track system so it could move around
Camera to identify things in its view (like turn to a person)
Battery powered
Search out for its own base station to recharge
I didn't achieve all of these things, in fact after I figured out what I felt was the bare minimum (bold in the list above) I kind of drew the line there.  Essentially I tried to make my robot as closely as possible to scale.  This is my first time ever doing anything like this, the only experience I had coming into this project is my familiarity with Arduino.
I've never tried to replicate something from tv show/movie before so trying to figure this out is first.  I started by googling the average size of a brick of butter as the robot is shown beside a brick of butter.  I never really found a consistent answer, 3x3x8 inches seemed to be the most common answer.  The bricks of butter I buy (Gay Lea) are about 2.7×2.7×5 inches here in Ontario.  In the TV show the brick of butter looked quite elongated so I felt the 3x3x8 was the correct size to scale thing to.  So I printed off a few frames showing the robot and brick of butter to find my scale, then took measurements using my trusty master craft caliper.  Using these measurements I created my model in Fusion 360 (startup license).
Required Tools & Supplies
Soldering Iron & Solder
Wire Cutters
18 AWG yellow silicone wire (3-4″)
18 AWG red silicone wire (3-4″)
24 AWG wire, not entirely necessary, nut nice it have
Wire wrap wire, multiple colours will make it easier to wire
Screw drive for your chosen screws
4-40 machine pan/button head 1/4″ screws (3x)
4-40 machine undercut flush head 1/4″ screws (5x), not entirely needed, the pieces these fasteners are used to secure; fit together pretty nicely without them
CUI CMS-28588N-L152 Speaker
Arduino Pro Mini (5v or 3.3v model, I used a 3.3v model)
FTDI USB TTL Converter (for programming an Arduino Pro Mini)
2″x1″ piece of perf board
1K Ohm through hole resistor (3x)
2N2222A Transistor
Adafruit 1833 – Micro USB Breakout
FT90M Micro Servo (robotshop.com)
HS-40 Nano Servo (robotshop.com)
5mm Red LED
Tactile Button 1-1825910-4
2×3 (6 Pin) right angle, 2.54mm spacing male connector
3pin JST connector male
3pin JST connector female
2pin JST connector male (2x)
2pin JST connector female (2x)
JST female tips for the connectors (7x)
note: the JST connectors aren't essential, but are convenient for disconnecting power/push button, speaker and LED
Super glue, I prefer Gorilla brand super glue
Assort small clamps
3D printer (I used a FlashForge Finder)
Black filament
White/Grey filament (these pieces will just be spray painted
Light Grey Primer in a spray can
Dark Grey Primer in a spray can
I think this is everything anyways
The 3D parts that will need printing
| | |
| --- | --- |
| Part | Comment |
| | Paint/Prime light grey, 10 hour print, 64 grams of material. Light Grey |
| Completed list coming soon | |
Files and Documention